One of my fondest memories at the holidays growing up, was helping my late Mother prepare her Manicotti. First she'd make the shells (crepes) from scratch, and then we'd prepare the filling. It was always fun to watch these thin shells take form, and to think that the family would soon be gathering around to savor all of the flavors involved: the rich, creamy filling, the subtle taste of the outer crepe, and that wonderful, spicy "bite" that the sauce brought! And don't forget the grated Reggiano-Parmigiano that went on top!
Well, that crepe was made with a wheat flour, which is now sooo forbidden to me, but here is a gluten-free version that's quite delicious and I'm sure the family won't be able to tell the difference.
If you're feeling threatened…don't be. Making the crepe shells is truly easy and once you try, I'm telling you, you will make these all of the time. I'm even including photos of the different steps, so you'll be able to see exactly what's happening.
To start out, give yourself time if this is on the menu.
It is a process that involves making the batter, the crepes, preparing the filling, and then the actual baking in the oven.
If you want to prepare your own homemade tomato sauce, we've posted a recipe for that also.(Actually it was 1 of the earliest I ever posted on the blog.)
For now, this is dedicated to the Manicotti. So, get out your whisk, non-stick small fry pan, and be prepared to amaze yourself!
Ingredients for 10 -12 Manicotti:
Crepe Ingredients:
1 ¾ cups Flour Blend: (1 ¼ c. White Rice Flour, 1/4 c.+1 tbl Potato Starch, ¼ c. Tapioca Starch or Flour) If you use a ready packaged "All-Purpose" blend, check that it's a blend of these.
3 Lg. Eggs, room temp.
2 cups Milk, room temp.
2 tbl. Sweet Butter
Dash ( ¼ teas) Salt
1/8 Teas. Sugar
Filling Ingredients:
2 cups Ricotta cheese (Skim or Whole Milk- either is fine)
1 Egg
2 tbls Grated Italian Cheese (Reggiano-Parmigiano or Romano, etc)
1 teas. Parsley Flakes
Dash of Salt & Pepper
Pinch of Garlic Powder. (not garlic salt, & only a pinch!)
Some Shredded Mozzarella ( about 1 cup)
And of course, your Tomato Sauce and even Meatballs if you like! We prefer a Meat Sauce with this not a Marinara or meatless.
Directions:
First, take a large bowl and combine the flours, mixing well.
Melt the butter, and then in a smaller bowl, combine that with the remaining Crepe ingredients and whisk well. Now add to the large bowl with the flours. Whisk vigorously or use a hand mixer on lowest speed. We want it to resemble a heavy cream consistency, or like a thinner pancake batter than you're used to.
Allow it to sit for a while in the fridge to "marry". After about 1 hour, you can continue. If you'd like to leave in the fridge for longer, that's ok as well.
Heat a non-stick small fry pan, ( mine was an 8 inch) over a low-medium heat. Using a ladle, spoon out only enough to cover the bottom. See my photo below: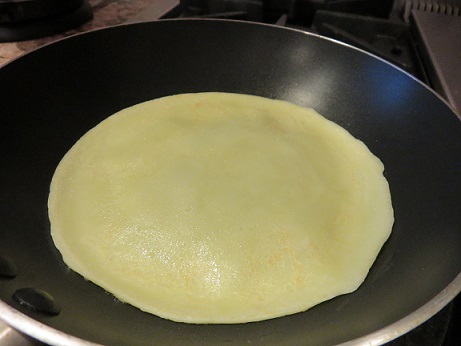 These will "set" very quickly. You'll be turning them over so, be prepared with a non-stick spatula. The first side took 1 ¼ minutes, and the second side took 30-35 seconds!
As you can see in the photo, they DO NOT brown. They should only be a beige color. The edges will become done first, as you'll notice on the cooking of the first stage. They sort of "curl" very slightly.
Place some waxed paper or parchment paper on the counter for them to cool. If not, use a clean board. Don't stack them, as they'll stick to
each other.
Keep going, one at a time. After the initial crepe, you'll get the hang of it. It's really not difficult at all.
Allow to cool. If you must save them for filling later on, then place a sheet of waxed paper or parchment in between each crepe. Then seal the stack in plastic wrap to keep moist.
Now to prepare the filling.
In a bowl, just add the ricotta, egg, parsley, grated cheese, garlic powder, salt & pepper.
Whisk well.
Place a good amount in the center of each shell, about 2 tbls., in a rectangular fashion, since the finished pasta will be presented in that long shape. Sprinkle with shredded Mozzarella on top, as you can see here.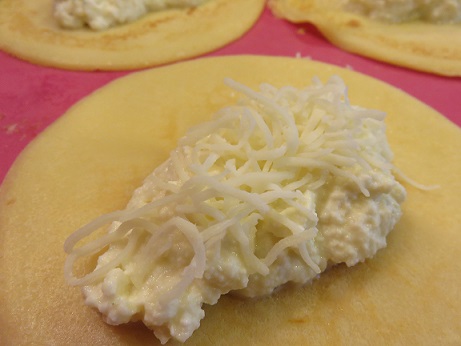 When all of the crepes are filled and still open, we'll gently close. You'll actually be folding, more than rolling. Fold over 1 side, then the other, and then gently turn it over, so that the seam is on the bottom. When they bake and are finally served, no one will see a seam.
Take a large open pan, such as a jelly-roll or lasagne pan, and place a small amount of your tomato sauce just coating the bottom. Gently put the filled and folded Manicotti side by side in the pan, seam side underneath. They can touch, that's fine. Spoon your sauce over the tops and bake in a pre-heated oven at 350 degrees for about 20-25 minutes.
Serve with some wonderful grated cheese on top, additional sauce on the table for those who choose, and maybe even some delicious Meatballs as well. Buon Appetito!!