Wooppie! Here we go again! Combine three of your favorites in a ready-made crust and thrill everyone!! Pumpkin, cheesecake, chocolate, Oh yeah!
This is made in a Gluten-Free Graham Cracker style crust that's made by "Midel".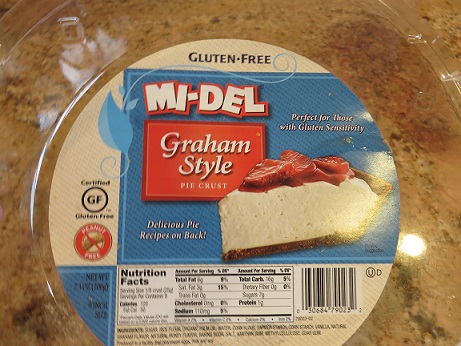 It's sold now in all stores alongside the cookies and crackers. (They make the best Ginger Snaps too, but I digress.) These ingredients will make enough for 1 pie and three mini-cheesecakes.
So, let's get started.
Ingredients:
1 Ready-made, Gluten-Free Graham style cookie crust, like this by "Midel"
1 ½ pkgs Cream Cheese. That's 12 oz. Softened.
1 Fifteen oz. can Pumpkin Puree
¾ cup Granulated Sugar
2 XL Eggs
¾ cup Sour Cream
2 teas. Pure Vanilla Extract
1 teas. Orange Zest
¼ teas. Cinnamon
1/8 teas. Ground Nutmeg
¼ teas. Ground Ginger
Boiling water for a water bath during baking.
Chocolate syrup for decoration after baking. (There are companies, such as "Lighthouse" that produce packets of dipping chocolate. It's sold in the fresh fruit section of our stores.)
Directions:
Can't be easier. In your large mixer, combine the cream cheese and sugar. Beat until silky and creamy. Add the eggs. Scrape down sides of bowl. Add the pumpkin, sour cream, vanilla, spices and zest. Continue to mix well.
We will need a water-bath. This will prevent the pie from drying out and cracking on top. The moisture from the hot water will do the trick!
Take a pan, such as a large pie pan and place some aluminum foil on top. (No water yet.) Enough foil to reach the sides. On top of that, place the ready-made graham cracker crust in it's tin. Pour the pie filling on the crust until about ¼ in from top. Gather the foil around your pie pan. It's just a precaution. We don't want water to get into the pumpkin mixture.
Before placing in the oven, pour boiling water in the outer pan. ONLY mid-way up the side of the foil . Not to worry. The water will serve it's purpose. We don't want to get the filling wet, so don't pour in too much water. See my photo of the pie in the oven.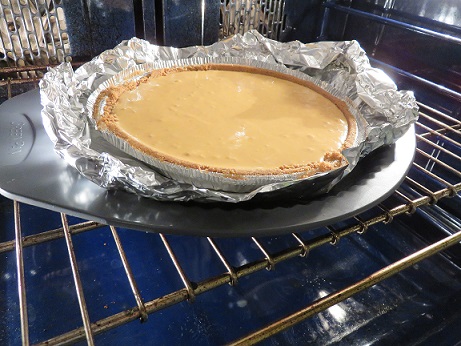 For the mini-cheesecakes: Use the remaining filling to fill large muffin pans, or mini-rectangle pans ( like for a mini-pound cake, etc). Spray them with a vegetable spray to keep from sticking to the sides, or grab a few chocolate cookies and crush them in a bowl. Add some melted butter and combine well. Press into the mini pans or muffin cups and then fill.
Bake both types at 350 degrees. The pie for 45 -50 minutes. The mini-cheesecakes for about 35. Bake until the edges are firm but the center is still "wiggly". Shut heat in the oven, but leave the pie/cakes in there. Crack the oven door open a few inches. Allow them to remain inside to continue "setting" for an additional 30-45 minutes.
Remove and allow to cool before drizzling the chocolate atop. Refrigerate of course until serving. May be made a day ahead. Just be sure no one digs in early.